What's up, guys! 🙂 I know I promised to write a review about this series like a hundred years ago but I seem to not be able to gather my thoughts about it properly… I simply adore these books so much and all the feels they give me, it's too much to handle verbally. Usually when I am trying to describe TMI to other people it gets real weird like I'm talking about some freaking bad-ass guys with lots of tattoos, weapons and leather, who believe in angels and kick demon's butts like nobody's business. 🙂 So yeah, I don't know how to recommend this series to you adequately. Then I'll start with that the author of TMI (The Mortal Instruments) Cassandra Clare actually wrote two series, one TMI in which all the shit happens in our current time and second one TID (The Infernal Devices), which takes place in 1878. And today I'll talk about the first one, so this post wouldn't be too long. And later I'll post second part about TID and other related stuff.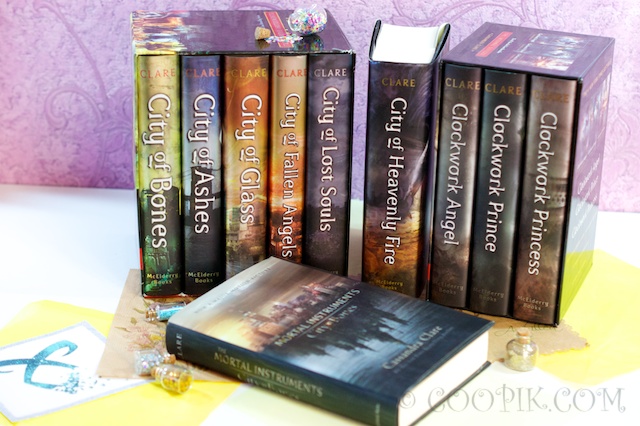 As I've mentioned before TMI story takes place in our time, in 2007 actually, that's when first book was published. The genre of these books is urban fantasy. This series tells us about Shadowhunter's world, which is totally shielded from the eyes of normal human beings (Mundanes). And Mundanes only can see through the shield when they believe in this world or when they were introduced to it directly.So this world was created cause of demons who broke in our dimension from their dimensions and that's when Shadowhunters (Nephilims) were created by angel Raziel who mixed his blood with human blood in the Mortal Cup. So Shadowhunters are half-angels, half-humans, they use the magic of runes and weapons to fight with demons, fairies and other bad stuff 🙂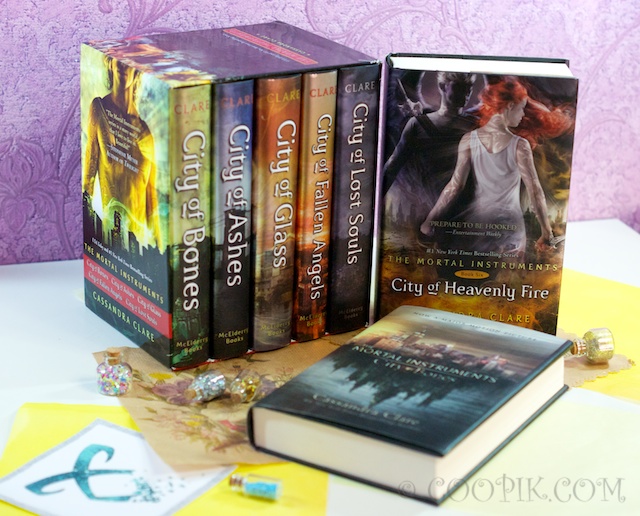 So our story in this series takes place in NY and from the first book we find out that our main character Clary Fray, ordinary high-school girl with her extremely ordinary friend Simon Lewis decides to go to this strange night-club and there she becomes a witness of a horrible murder – young people dressed in leather kill some guy with strangely looking weapon. She gets scared but it seems that only she can see those people and others just didn't saw anything that happened. Confused she rans out of this place to her house. And after that accident she starts drawing some weird symbols meaning of which she couldn't figure out. And when she finally sees one of the "murderers" in the alley she decides to ask him about those symbols and the murder she saw before. Of course that murderer guy turns out to be our Shadowhunter named Jace who will tell her about this dangerous world and will help her find her missing mother. Along the way Clary will learn a lot of crazy secrets and mainly the important one – that she belongs in the Shadowhunter's world.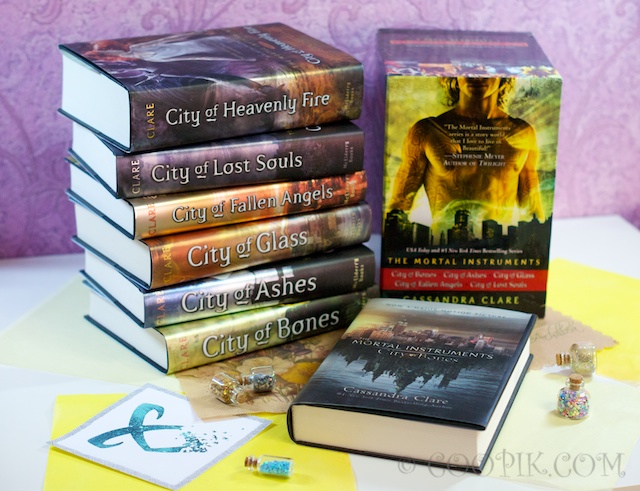 So yeah, as you can see I struggle to describe the plot mainly because of the spoilers. But I want to give you a little advice, if you decide to read this series don't stop after the first book, keep going. I know a lot of people gave up reading after first book cause it seemed very strange and boring to them, but it's fantasy books for Christ's sake, it always takes a lot of world building and explaining in the first book. And I promise you after finishing the third one you'll want to read the rest. Cause in second and third books you'll see a lot of  character's development, you'll be able to relate with some characters for sure.
And one thing that is the most important about these books is that everybody can find in them something they'll really like. If you love art and all that jazz, you'll love Clary. If you like bad-ass characters especially gorgeous girls who can kick butts wearing high-heels and mini-dresses, you'll love Izzy. If you consider yourself nerds or hipsters or just simply normal people, you'll love Simon, cause he's very related character. And of course if you love, and let's be honest here – we all love- smoking hot sarcastic guys with cool weapons, you'll definitely fall in love with Jace like I did myself 🙂 Yes, there are a lot of fight scenes, weaponry, trainings and gore stuff but along with all of that there are a lot of humor and feelings too.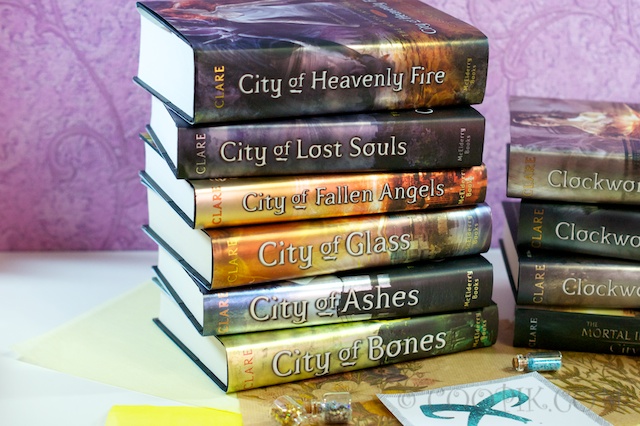 Well, consider I described the plot of first book perfectly 🙂 And I can't really tell you more, especially about the other ones cause spoilers.
But I can show you the books and we all can drool over their prettiness 🙂 I don't know how they do it but the covers of this series are just gorgeous! They shine, they spark, they simply mesmerize. I love every single one of them especially the spines, they look so pretty on my shelf 🙂
So let's take a look at first one "City of Bones". And by the way I watched the first movie back when it was premiered and was slightly disappointed by it. I mean, I loved actors, obviously, cause I adore Jamie Campbell Bower and I liked all the pretty shots and CGI but script was so chopped and storytelling was so confusing I was pretty sure that those who didn't read the books were not been able to understand what a hack was going on in that movie. So yes, I have very mixed feelings about that book-to-film adaptation.
But moving on, let's see the books, shall we? 🙂 This first book features, we all can guess, Jace's torso, very naked one I might add 🙂 Not that I'm complaining, don't get me wrong 🙂 But I doubt that a lot of guys will but the book with such a cover especially if they don't have torsos like that themselves 🙂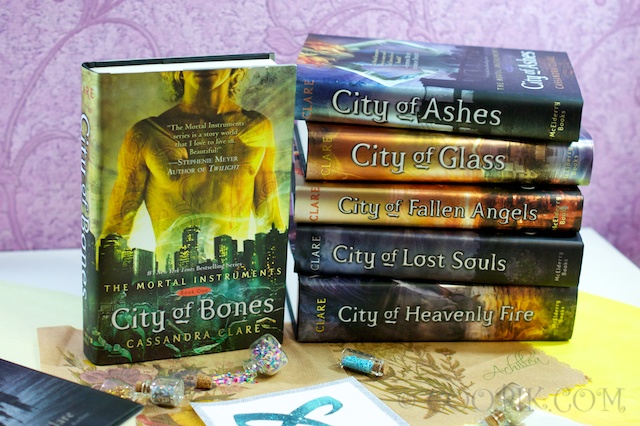 But look at the colors! Those greens are so nice, they shine perfectly. And when you look at those colors the torso is already forgotten. Don't know about you but I can't tear my eyes off this cover and not for the reason you think 🙂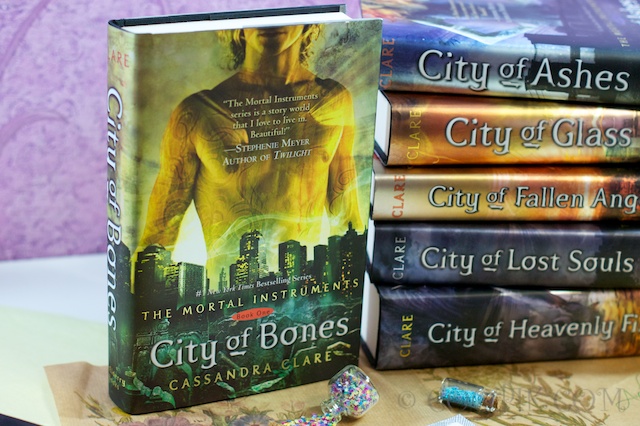 But that hideous blurb right on the torso! I mean come on, why would they have to put it there? I don't have anything against Stephenie Meyer and I am grateful to her about mentioning this book at her blog back in 2007 which got me reading it immediately but there are a lot of other places to put her blurb.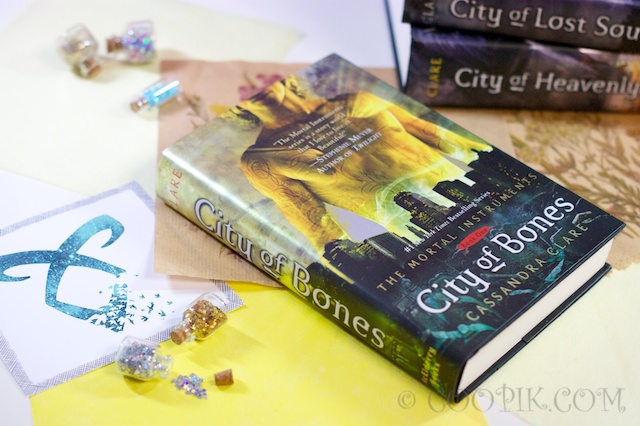 Look how it sparks! 🙂 I like this mix of colors and how they shine at certain angles. Just beautiful!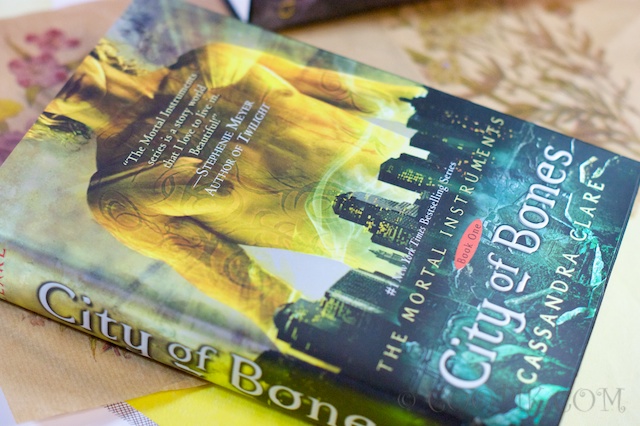 I should've prepared you for the ridiculous amount of photos cause I went crazy shooting them 🙂 I wanted to catch every perfect angle and every nice spark. But my camera is too old and the lighting was pretty bad that day so here we are 🙂
And my favorite quote from this book is this one. I know, I know it's so mainstream these days, but we who've read it before all the hype and popularity can fully appreciate it even now 🙂
"The boy never cried again, and he never forgot what he'd learned: that to love is to destroy, and that to be loved is to be the one destroyed"
And this song forever and always for me will be the main theme to this series. I have my own soundtrack list for these books so I'll share it with you.

Прослушать или скачать Imagine Dragons Radioactive бесплатно на Простоплеер
Btw, this book was re-published with new movei-tie-in dust-jacket and of course I had to get one for my collection. This one is without the tors…those colors sadly but still pretty.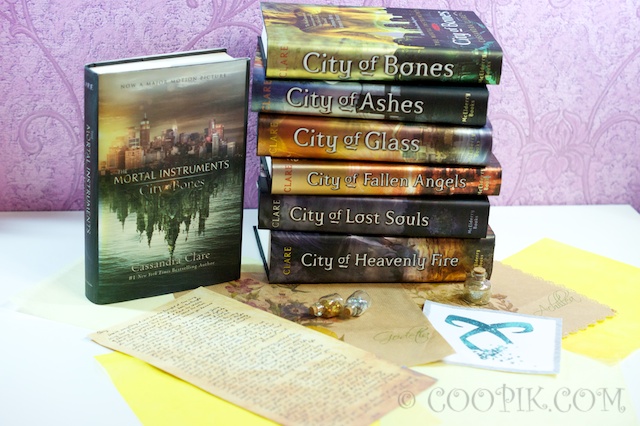 This cover has that pearly shine too but because of such dark colors it doesn't spark so much.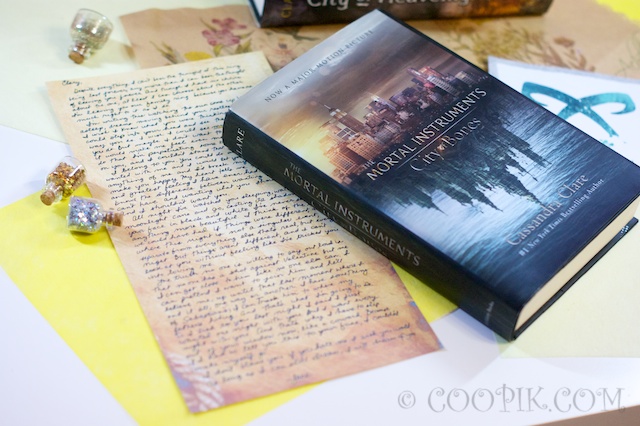 Here you can see Jace's letter to Clary which was given with limited edition books but I couldn't find those editions so I made the letter myself and I think it turned out pretty cool, I like it even more than the original one cause mine is hand-written 🙂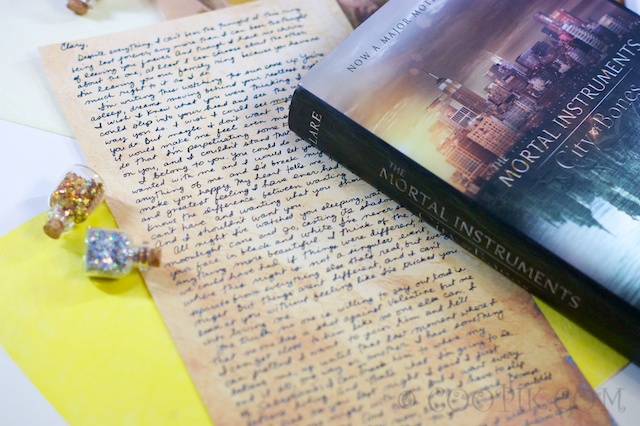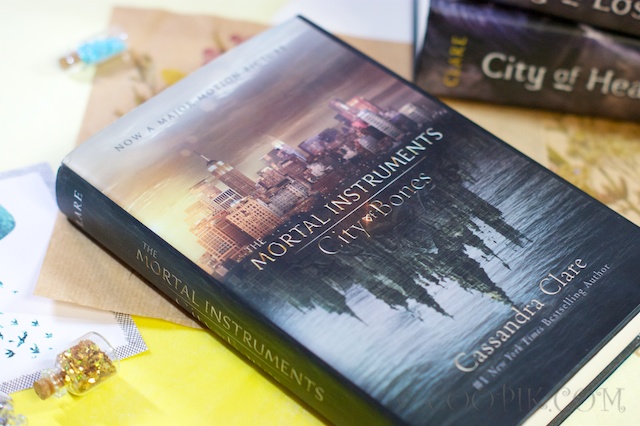 I don't even know how many times I re-read this book 🙂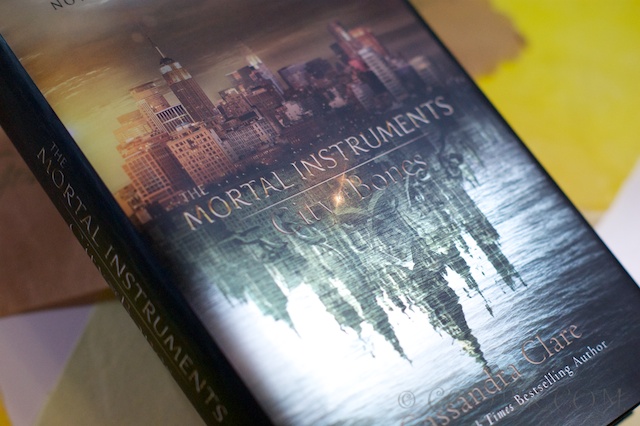 And of course if on the first book there was Jace it's only  logical that on the second one it would be Clary 🙂 And yes it is 🙂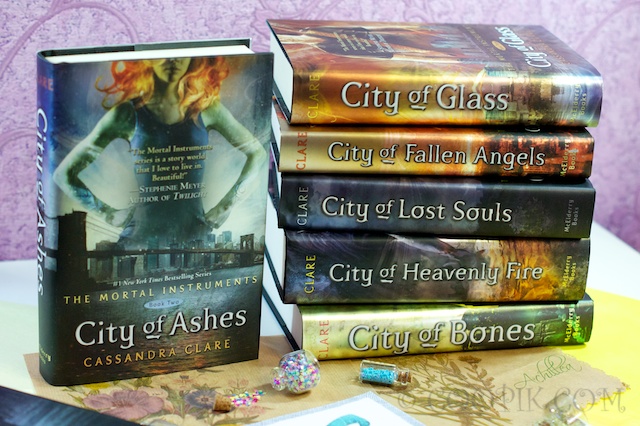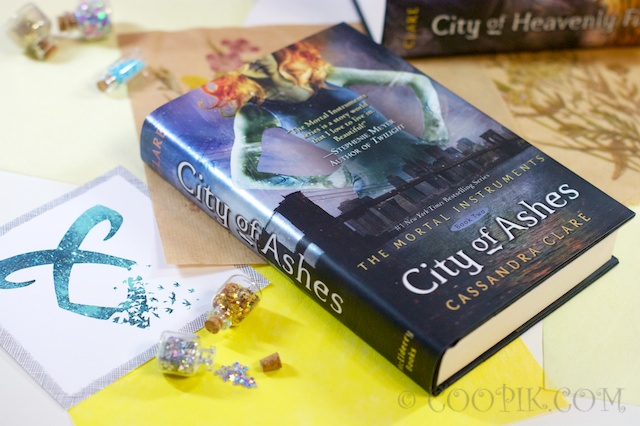 It's also beautiful in blue scheme.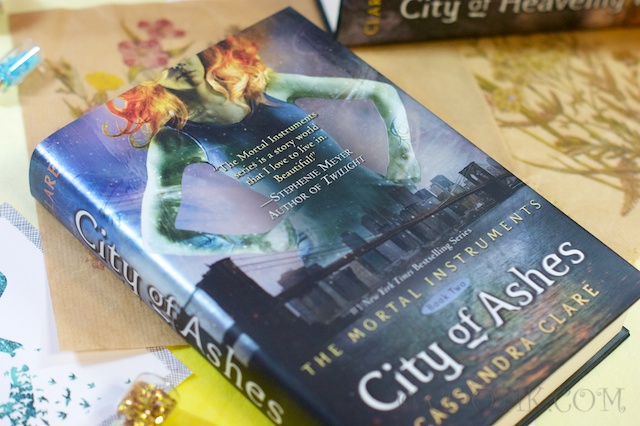 "If you really love something, you never try to keep it the way it is forever. You have to let it be free to change."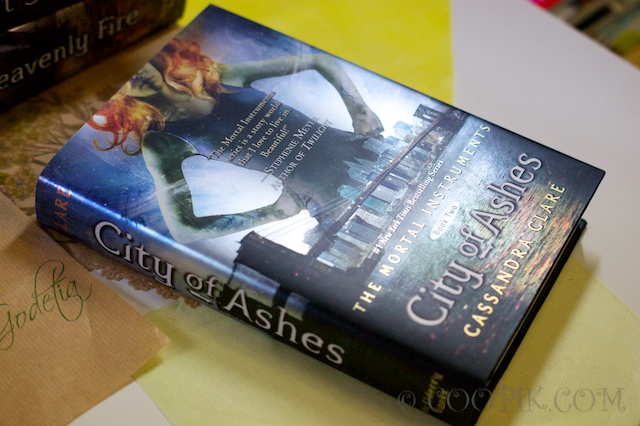 And here is my soundtrack to this book.

Прослушать или скачать Everything Burns бесплатно на Простоплеер
Ok, so we're now on the third one and it gets more complicated here, firstly because who the hell is this guy on the cover? I mean as for me that's probably Alec but a lot of people say it's Sebastian. Well, who knows… And secondly, this book was supposed to be the final one in trilogy. But then Cassy decided to write three more which was such a good news! And that's why this particular book is so good and well written and a lot of fans like it the best from all three.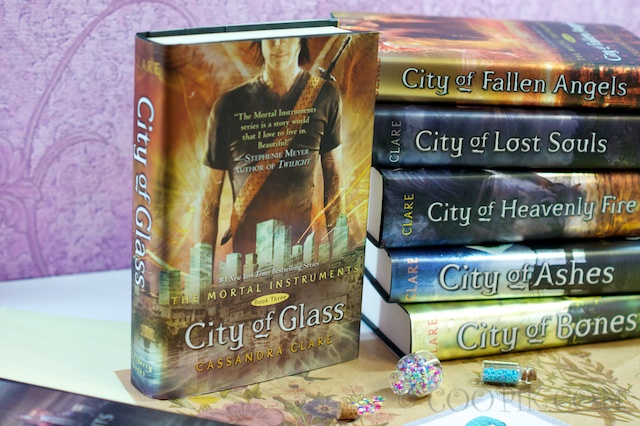 I noticed that the more brown and red is on the cover the more it shines.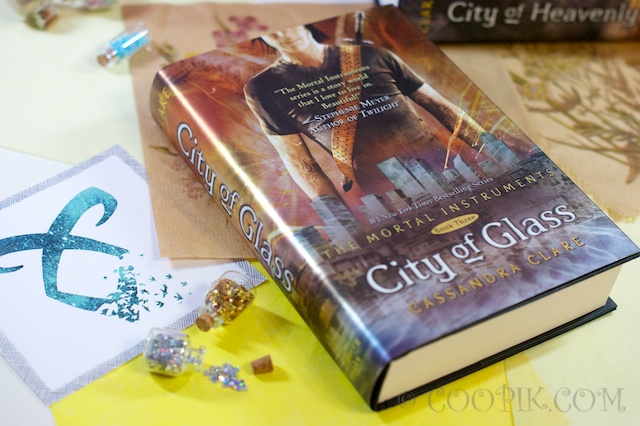 "There is no pretending," Jace said with absolute clarity. "I love you, and I will love you until I die, and if there is life after that, I'll love you then."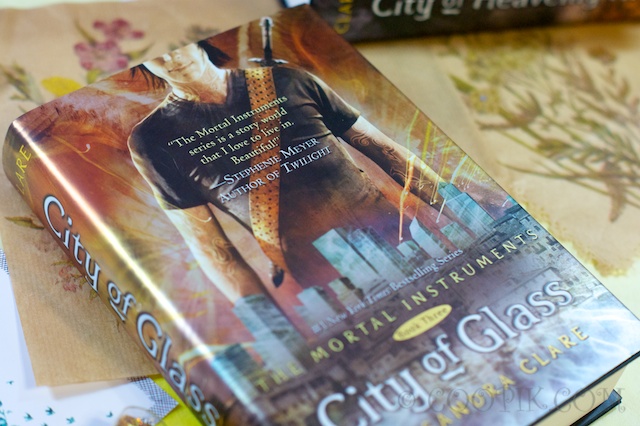 Прослушать или скачать I love the way you lie бесплатно на Простоплеер
Moving on… The fourth book is not so loved by most of the people cause they say it is just a buffer between the third and fifth ones and it's boring and nothing happens there. But I disagree because I personally had to wait for it the whole year or even two years and when I finally read it I was so happy, I literary devoured it in one whole day, which is not something I normally do with Cassy's books cause they are too big to swallow at ones. Yes, Jace in this one is kinda annoying but I still like it 🙂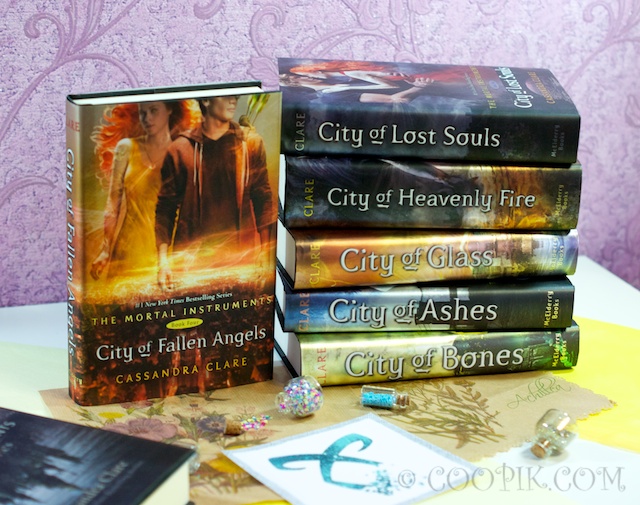 That's what I'm talking about. More reds and browns and it burns with fire! Gorgeous!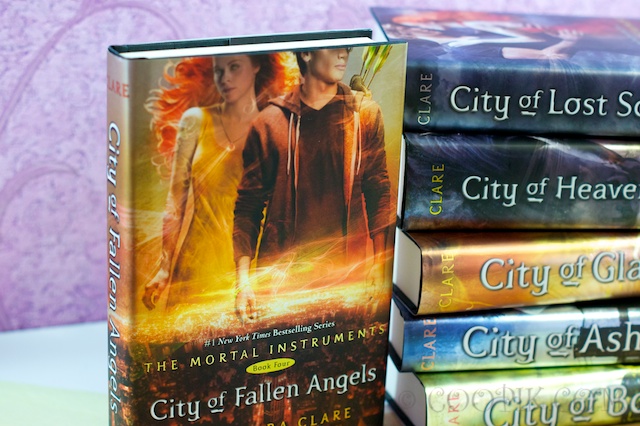 Here's definitely Alec cause he has bow 🙂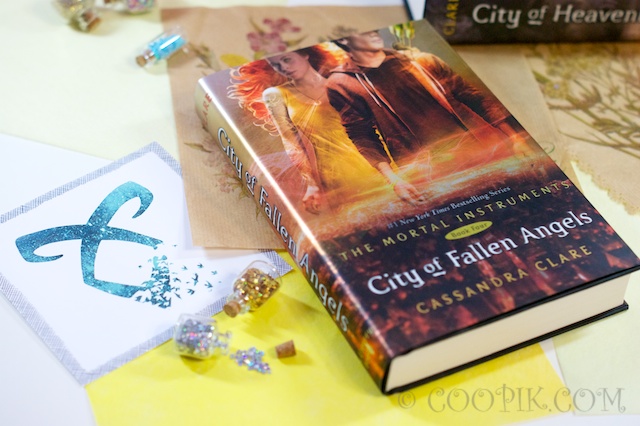 "Sometimes, Clary," he said, "love just isn't enough."
"I love you, Jace Wayland—Herondale—Lightwood—whatever you want to call yourself. I don't care. I love you and I will always love you, and pretending it could be any other way is just a waste of time."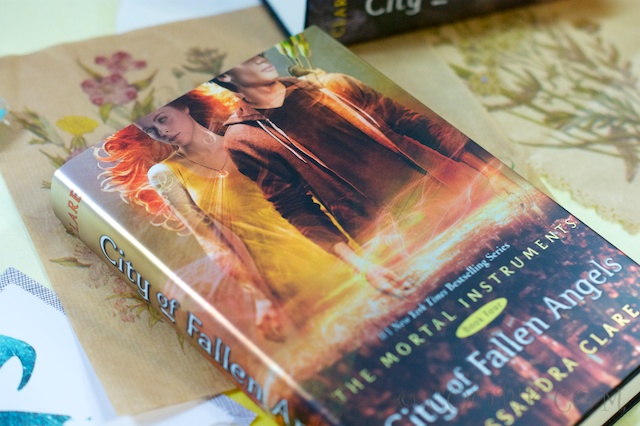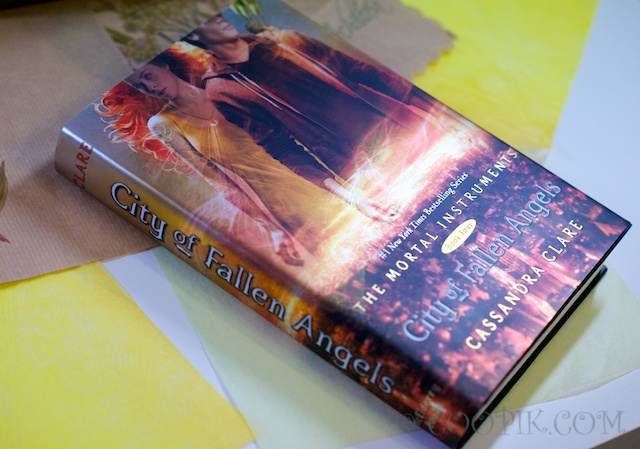 Прослушать или скачать Simon Curtis Flesh бесплатно на Простоплеер
So the fourth one is probably my favorite! There is just that atmosphere charged with danger and emotions! And I really like that our "trio" is stuck together in that moving house. There were some moments when I was really scared for Clary!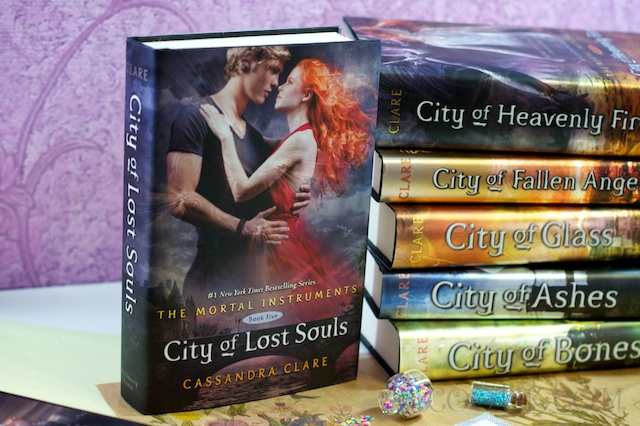 And finally our lovers are together on the cover 🙂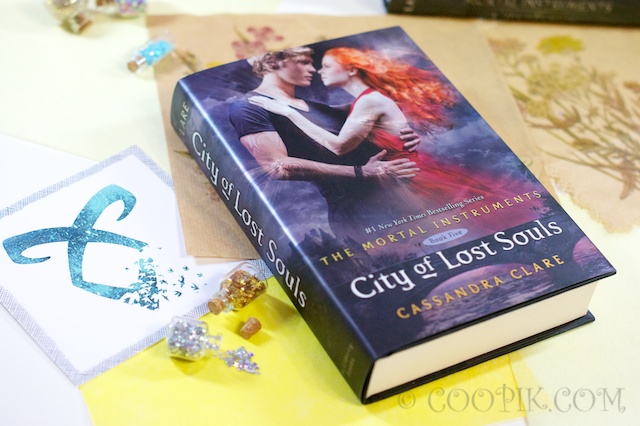 "Of course he loves me. I'm his sister."
"Blood isn't love," said Magnus, and his voice was bitter."
""What have you done to my cat?" Magnus demanded… "You drank his blood, didn't you? You said you weren't hungry!"
Simon was indignant. "I did not drink his blood. He's fine!" He poked the Chairman in the stomach. The cat yawned. "Second, you asked me if I was hungry when you were ordering pizza, so I said no, because I can't eat pizza. I was being polite."
"That doesn't get you the right to eat my cat."
"Your cat is fine!" Simon reached to pick up the tabby, who jumped indignantly to his feet and stalked off the table. "See?"
"Whatever.""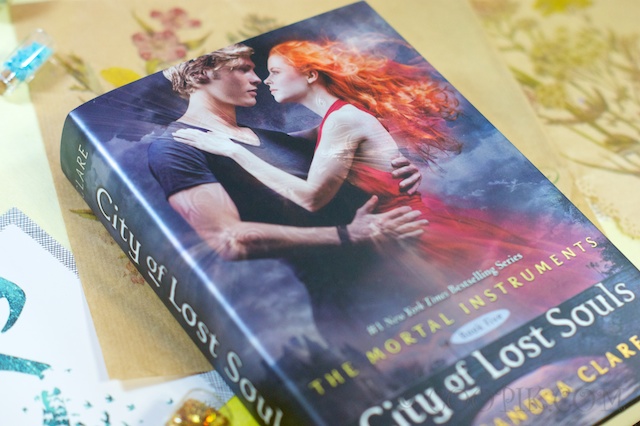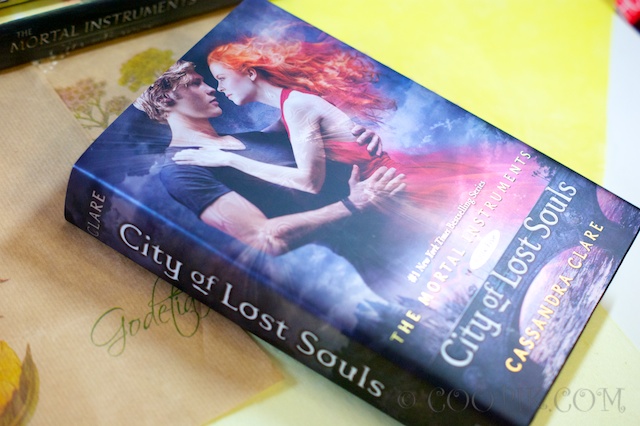 Прослушать или скачать Linkin Park Numb бесплатно на Простоплеер
And the last but definitely not least, the monster of a book with which I can totally defend myself in a dark ally. It is ginormous! That's for sure not a purse-friendly book. But it is stunning!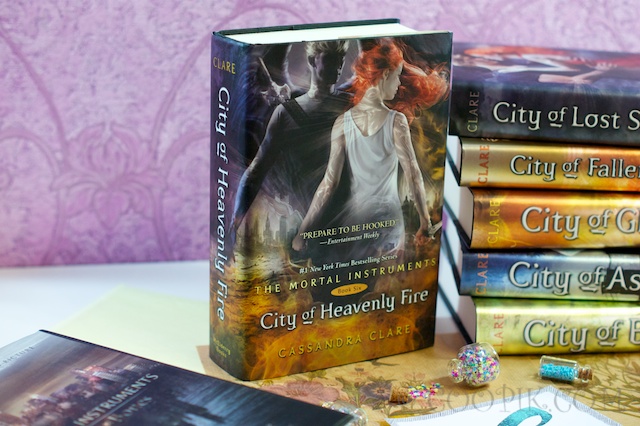 So Clary was like with everyone in combo on the covers and now it's Sebastian 🙂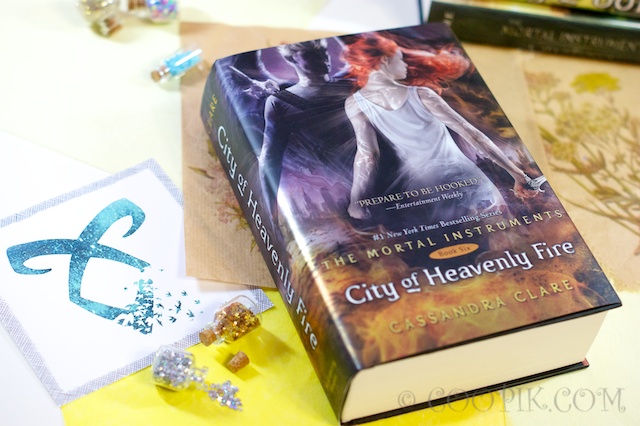 Just look how big is it!  It could be easily divided into two books. It has almost 750 pages! Holy cow!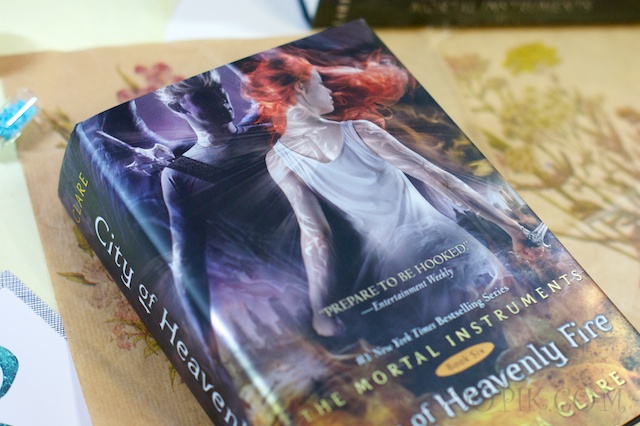 And it has spoilery dust-jacket. The inside of the jacket is a poster, very cool one but it contains spoiler so don't look at it very closely before you read the book.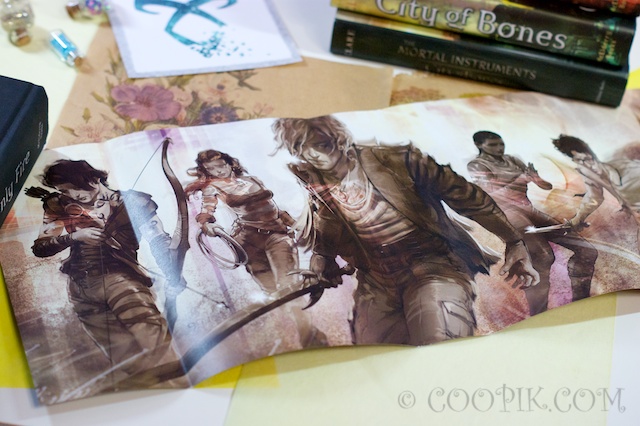 Чтоб не увидеть спойлер, не рассматривайте слишком внимательно это фото 🙂
"Family isn't blood. It's the people who love you. The people who have your back."
"There are a hundred trillion cells in the human body, and every single one of the cells of my body loves you. We shed cells, and grow new ones, and my new cells love you more than the old ones, which is why I love you more every day than I did the day before. It's science. And when I die and they burn my body and I become ashes that mix with the air, and part of the ground and the trees and the stars, everyone who breathes that air or sees the flowers that grow out of the ground or looks up at the stars will remember you and love you, because I love you that much."

Прослушать или скачать T. A. T. u. Sacrifice бесплатно на Простоплеер
And of course the naked books 🙂 I know you want it 🙂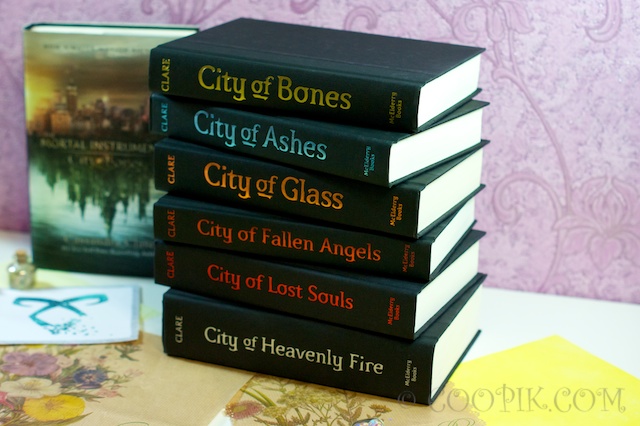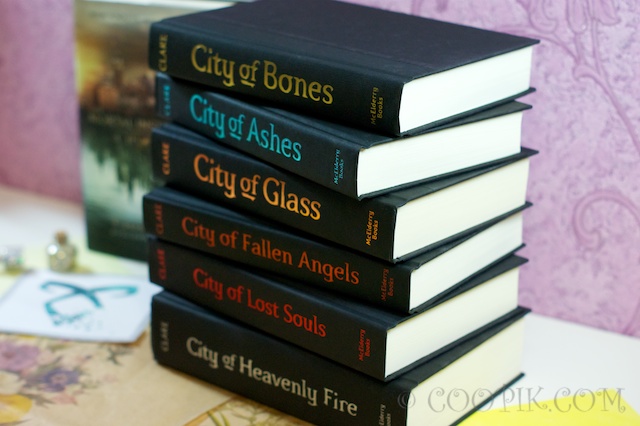 Okay, guys, that's it for today 🙂 I can't believe I did it, I wrote this post 🙂 Maybe it was not so perfectly composed but let's just pretend it was cause I really love this series with all my heart and it gives me so much emotion that I can't see straight sometimes 🙂 I like Cassy's writing, I like her sense of humor, her characters, her world. I like how she can make you smile and laugh, cry and be so devastated, fantasize and believe. And I love Jace so much! And for that I am very grateful to her.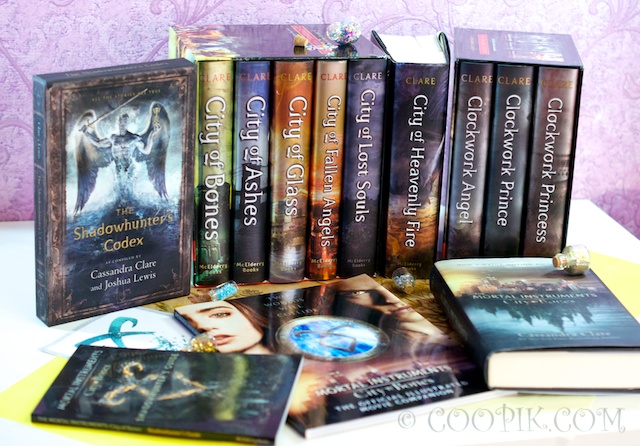 I hope this post was helpful and interesting for you! Maybe someone will decide to read this series now and if you've already read let's discuss in the comments down below! I would love to chat with you but remember that our blog is a spoiler-free zone so keep it in your pants 🙂
Here is where you can stalk me on other social media:
Instagram: coopik
Twitter: @kcoopik
Weheartit: http://weheartit.com/coopik
Flickr: https://www.flickr.com/photos/coopik/ (haven't uploaded most of my photos yet but I will soon)
And as always guys thank you so much for you support, for staying here, commenting and giving me some love! Thank you for your awesomeness!
Love you all!
Hugs and kisses!***
Laters, babies!!!***
P.S. Pancakes was trying to climb into an empty box when I got all of the books from there. It was hilarious! I wish I could film that 🙂